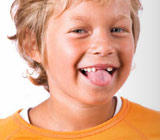 Many youngsters look forward to finding a surprise under their pillow after a visit from the "tooth fairy." This fable may comfort children who wonder why their first teeth come out. Parents need to know that losing baby teeth, also called primary or deciduous teeth, is completely normal, but at the right time and the right "space."
A child's first set of teeth must be lost to create room for the adult or permanent teeth that have been forming beneath them. The buds of the permanent teeth grow within a child's jawbone just under the baby teeth. The tops, or crowns, grow first, followed by the roots. Then as the roots develop, the permanent teeth push the baby teeth above them up through the gum tissues. As this happens, the roots of the baby teeth are resorbed, or melted away.
With their roots gone, eventually the baby teeth become so loose that they can be easily removed or fall out on their own, making room for the adult teeth to appear. Sometimes, when a baby tooth is so loose, it can be wiggled out. It leaves a little bleeding gum tissue that heals easily. This is also normal.
Besides making sure the tooth fairy comes, parents need to be sure that their children are evaluated to determine whether baby teeth are being lost in the right sequence so they will act as guides for the adult teeth. If teeth are lost prematurely because of decay or trauma, it is important that space is maintained for the adult teeth when they come in.
Contact us today to schedule an appointment or to discuss whether your child's baby teeth are being lost in the right sequence and the adult teeth are coming in correctly. To read more about losing baby teeth, see the article "Losing a Baby Tooth: Understanding an important process in your child's development."