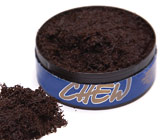 For many people, starting a chewing tobacco habit begins as something you do with "all the guys" to be cool and fit in. It often starts when playing sports such as baseball. And because it is smokeless tobacco, many people think it is harmless; thus they slowly start "dipping" more often until they are chewing tobacco throughout each day, every day.
The truth about chewing tobacco is that it isn't harmless. It is extremely dangerous and contains more than 30 chemicals known to cause cancer. It also contains nicotine, the highly addictive-forming drug found in cigarettes. Sure, it may not have the odorous (and dangerous) impact of cigarettes, cigars and pipes that can negatively impact others nearby, but it can destroy both your oral and general health and even kill you.
Steps You Can Take to Quit
Once a person decides to stop using chewing tobacco, it can be a difficult process and even more difficult to quit cold turkey. If the latter describes your situation, try a smoking cessation program or talk with your doctor about prescription medicines available to help you kick the habit. You may also find free counseling (via telephone) or other groups and organizations created to help people break free from their tobacco addiction. This is often a great way to start the quitting process.
Two of the most important steps you can take are to involve your physician and our office in your strategy to kick this habit. In addition to encouraging and supporting your decision, we can closely monitor your oral health during the process.