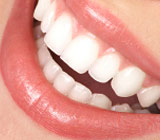 When speaking about veneers in dentistry, many people wonder what they are really made from and how they produce such natural results. The answer is dental porcelain...and yes, it really is a type of porcelain or glass. Even though they are made of porcelain, not all porcelains are the same. This is one reason there can be such a wide price range when comparing porcelain veneer pricing from one dentist to another. For example, the quality of the dental porcelain used and the expertise of the dental lab artisans greatly impact the price of a veneer — just like other pieces of fine art, pricing depends upon the materials used and the artistry of the person creating them.
Dental porcelains are used to create veneers because of their near ideal optical properties in mimicking natural teeth in shine, opacity, and translucence. And when you combine these facts with the artistry of the lab technician and your dentist skill's in placing the veneers, you begin to understand how veneers are virtually undetectable in cosmetically-enhanced teeth. Another reason for using dental porcelain is that they can be made in many colors, shades and translucencies to enhance the optical properties and natural beauty of whiter, brighter, and visually appealing teeth. However, do not let the word porcelain, fool you when it comes to durability. While veneers are not as strong as natural teeth they are not so fragile that you should worry about breaking or damaging them with normal wear and tear. However, you should avoid biting into extremely hard substances; using your veneers as a tool in lieu of scissors, tweezers, or pliers (you should not use your natural teeth as a tool either!); and twisting your veneers when biting into harder substances.
To learn more about veneers, continue reading, "Smile Design Enhanced With Porcelain Veneers." Or, contact us today to discuss your questions or to schedule a consultation.