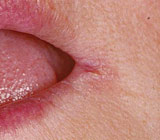 If you are experiencing cracking in the corners of your mouth, you have a common condition called perleche or angular cheilitis. Perleche comes from a French word meaning "to lick," because people tend to lick the irritated areas of their mouths. Angular cheilitis comes from cheil meaning "lip," and itis meaning "inflammation."
Sufferers from perleche are usually young children who drool in their sleep, young adults with braces, and older adults who have developed skin wrinkling with deep lines at the corners of their mouths. Perleche may become worse in the winter, when cold weather and dry air dries out the skin of your lips. You may lick your lips often to keep them moistened. This constant licking of the cracked areas can lead to infection, most commonly from a type of yeast called candida albicans. Sources of infection can also include dentures that are not cleaned frequently enough, missing teeth that cause facial changes and added skin wrinkling, and health conditions such as iron-deficiency anemia, vitamin B deficiency, diabetes and cancer.
Conditions associated with perleche can be treated in a number of ways. Yeast is a type of fungus, so to combat a chronic yeast infection you need antifungal medication. This may be taken orally or applied to the cracking places as an ointment. You may be asked to dissolve a medicated lozenge in your mouth and then swallow it, so that its medicine treats both the mouth surface and the entire body. Antifungal medications may be combined with other medications to lessen inflammation and assist skin repair.
If the skin-cracking is related to serious underlying conditions such as missing teeth, improperly fitting dentures, or systemic health conditions, these must be treated in order to keep the perleche from recurring. We can perform a dental assessment to check the health of your teeth, gums, and lips, and you may also want to visit a dermatologist to see if treatments can improve and rejuvenate the quality and appearance of your facial skin.
Contact us today to schedule an appointment to discuss your questions about cracks at the corners of your mouth. You can also learn more by reading the Dear Doctor magazine article "Cracked Corners of the Mouth."