Posts for tag: teeth whitening
By Steven R. Gluck, D.D.S.
June 07, 2012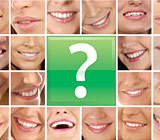 Teeth whitening is a great way to improve your smile. For best results and to ensure your safety, teeth should be bleached under professional supervision. We can help you choose the whitening method that's right for you, and monitor the effects of your treatment. Here are some answers to frequently asked questions about this relatively inexpensive cosmetic procedure:
Is teeth whitening safe?
A lot of research has been done on teeth whitening, so we know that specific bleaching formulas, from a reputable source, are safe if used as directed and after a proper dental examination. You should be aware that tooth sensitivity is a common side effect of bleaching, but brushing with a desensitizing toothpaste containing potassium nitrate for two weeks prior to bleaching can reduce sensitivity. Using potassium nitrate during the bleaching process can also help.
Is it effective?
Professional bleaching is very effective. Peroxide goes through tooth enamel (the outermost layer) and the dentin (middle layer) to the pulp (the innermost layer) in 5 to 15 minutes. The bleach actually changes the color of the enamel and dentin, and removes stains.
How is teeth whitening done?
Basically there are three options: in-office whitening (done by a dentist), at-home bleaching with custom-made flexible plastic trays (with prescription bleach), and over-the-counter (OTC) products. Not all OTC products are equal, and the results will take longer to achieve than with professionally supervised procedures.
How long does it take?
That depends on what method you choose and, in the case of at-home whitening, how conscientious you are about following through with your course of treatment. One study found that a six-shade change required either: three in-office applications of 38% hydrogen peroxide; one week of 10% carbamide peroxide used at home nightly in a custom-made tray; or 16 daily application of 5.3% hydrogen peroxide on a whitening strip.
Will it last?
It really depends on the individual. No bleaching method can whiten teeth permanently, though some people's teeth remain white for over 10 years with no touch-up treatment. More typical results vary from six months to two years. Keeping up with your regular oral hygiene routine at home and your professional cleanings at the dentist's office will help maintain the results; so will avoiding tobacco and beverages that stain, such as red wine, tea and coffee. You can also consider a bleaching touch-up once or twice a year at home or here at the dental office.
I want to go for it! What's the first step?
Step one is a pre-bleaching dental examination to determine the cause of your tooth discoloration. We want to make sure that your discoloration is not the result of an oral health-related problem. For example bleaching will mask but not resolve issues such as abscessed teeth, decay, and root canal problems. We want your teeth not only to be beautiful, but healthy, too!
If you are interested in learning more about teeth whitening, please contact us today to schedule an appointment for a consultation. For more information on teeth whitening, please see the Dear Doctor magazine articles "Important Teeth Whitening Questions Answered" and "Tooth Whitening Safety Tips."
By Steven R. Gluck, D.D.S.
April 17, 2011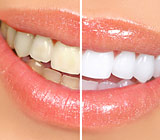 What causes stains on teeth?
Staining can occur on the outside surfaces of teeth and is caused by foods such as red wine, coffee, and tea, as well as by tobacco use. They can also be developmental, affecting the structure of the teeth due to excessive fluoride levels or from tetracycline antibiotics given during childhood to name a few. Changes in a tooth's enamel or dentin during tooth formation, or as teeth age, can also cause discoloration.
What is going on inside a tooth's structure that makes it look stained?
Most of a tooth's covering (95 percent) is composed of highly mineralized enamel. The crystals of enamel are contained in a framework, or matrix, of organic matter. Dentists believe that various organic compounds that get into this matrix can cause staining.
How do whiteners work?
Tooth whiteners or bleaches expose the teeth to a peroxide compound. This creates reactive oxygen that breaks down highly colored organic compounds within the tooth's sub-surface matrix, making the tooth look whiter, but without changing its internal structure.
What professional in-office whitening techniques are available?
During treatment, a high concentration of peroxide solution in the form of a gel is applied directly on the teeth, often with activation by a heat or light source. These systems use custom tailored trays fitted to an individual's mouth. Silicone barriers or protective gels are used to keep the peroxide gel away from the gums or sensitive membranes in the mouth.
How are professional home whiteners different?
Home whiteners involve a less concentrated solution of peroxide in a gel form. It is delivered to the tooth surface by a bleaching tray that is custom-made in your dentist's office. Over-the-counter whiteners such as whitening strips or paint-on formulas can also be used, but they take longer and they're not as effective — the more diluted solutions are used for safety.
Can toothpastes really whiten teeth?
Mild abrasives in toothpastes clean surface stains but cannot change the underlying tooth color or remove significant staining.
How long do the results last?
Usually, the results last from six months to two years, but effects will diminish over time. You can make them last longer by avoiding the foods and habits that cause staining.
Are teeth whiteners safe to use?
Teeth whitening products are safe if used according to our recommendations or the product manufacturer's directions. Peroxide products may be toxic if used in excess of recommended intervals and amounts.
Read more about teeth whitening in the article "Teeth Whitening, Brighter, Lighter, Whiter..." Contact us today to schedule an appointment or to discuss whether tooth whitening is right for you.