Posts for tag: nutrition
By Steven R. Gluck, D.D.S.
February 16, 2012
You probably know that tooth decay results when the bacteria in your mouth release acids after consuming sugars. After you eat sugars, particularly the type of sugar known as sucrose, increased acid in your mouth begins to dissolve the enamel and dentin in your teeth, and you end up with cavities.
What are the Types of Sugars?
Modern diets include several types of sugars. Most of these are fermented by oral bacteria, producing acids that are harmful to teeth.
Sucrose (commonly known as sugar)
Glucose (released from starch consumption)
Lactose (milk sugar) — Less acid is produced from this type of sugar
Fructose (found naturally in fruit and also added to many processed foods)
Maltose
Recommended intake of "free sugars" is no more than 10 teaspoons per day. Note that a can of soda contains over 6 teaspoons! Soft drinks are the largest source of sugar consumption in the U.S. In 2003, for example, Americans drank an average of 52 gallons of soft drinks. Average per capita consumption of all sugars in the U.S. was 141.5 pounds (64.3 kg) one of the highest levels in the world.
Sugar substitute xylitol (which is chemically similar to sugar but does not cause decay) can be part of a preventive program to reduce or control tooth decay. Chewing gum sweetened with xylitol stimulates saliva flow and helps protect against decay.
Sugars Released from Starches
Starches are foods like rice, potatoes, or bread. When you eat refined starches, such as white bread and rice, enzymes in your saliva release glucose. However, these foods have a lower potential to produce decay than foods with added sugars. When sugars are added to starchy foods, as in baked products and breakfast cereals, the potential for decay increases.
Less refined starches such as whole grains require more chewing and stimulate secretion of saliva, which protects from harmful acids.
The Case for Fruit
Fresh fruit has not been shown to produce cavities, so it makes sense to eat them instead of sugary desserts and snacks. Dried fruit is more of a problem because the drying process releases free sugars.
Contact us today to schedule an appointment to discuss your questions about diet and oral health. You can also learn more by reading the Dear Doctor magazine article "Nutrition & Oral Health."
By Steven R. Gluck, D.D.S.
January 23, 2012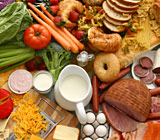 How many of these questions can you answer correctly? The more you know about nutrition and oral health, the healthier you are likely to be.
What are free sugars?
"Free sugars" is a term for sugars including refined cane, beet and corn sugar, which are added to foods or occur naturally in honey, syrups or fruit juices.
You probably know that foods with added sugars are not healthy for your teeth. What is the maximum recommended sugar intake for oral health?
The recommended daily limit for free sugar is 10 teaspoons per day. Note that one can of soda contains over 6 teaspoons.
If a sugary snack is bad for your teeth, what could you substitute that would be better?
Fresh fruits and vegetables would be a better snack. Fresh fruits contain fructose, a sugar that has not been shown to be harmful to teeth if eaten in reasonable amounts.
How can you get enough fluoride to guard your teeth against decay?
If your water supply does not contain fluoride, or if you usually drink bottled water, you may or may not be receiving enough fluoride from your toothpaste. We can assess if you are receiving enough fluoride by examining your teeth, testing your plaque and reviewing your past history of tooth decay. If you are having a problem with tooth decay, we can create fluoride trays for you so you can apply a fluoride solution to your teeth daily.
What is dental erosion and how is it different from tooth decay?
Some acidic foods, particularly drinks such as juices and sodas, wear away your teeth's outer coating (the enamel) when exposed to the teeth's surface. Erosion does not involve bacteria, the cause of dental caries (tooth decay).
Can certain foods stop acidity from attacking your teeth?
Yes, there are foods that reverse the increase in acidity that comes from eating free sugars. One of these is cheese. Cheese stimulates saliva in your mouth, and it contains high levels of calcium, allowing calcium to be added back to your teeth. Many vegetables and starchy whole grain foods require thorough chewing, which also stimulates production of saliva and guards against tooth decay.
We hope you learned some useful facts from this nutrition quiz. If you modify your habits so that you eat less free sugar; drink more water (preferably fluoridated), drink fewer juices and sodas; and snack on fresh fruits, vegetables, and cheese, you can count on having healthy teeth and gums.
Contact us today to schedule an appointment to discuss your questions about diet and oral health. You can also learn more by reading the Dear Doctor magazine article "Nutrition & Oral Health."