Posts for tag: dental emergencies
By Steven R. Gluck, D.D.S.
May 06, 2012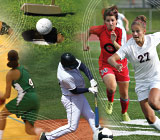 When it comes to sports, all athletes need to know how to assess their risk for experiencing a sports-related injury as well as how to prevent one. The first step to accomplish this is learning how sports and activities are classified, as they define risks from little-to-no chance of injury to highly susceptible for injuries. These categories include:
Low velocity, non-contact sports: These sports and activities have the lowest risk, as they typically include sports where the athletes perform individually at reasonable speed without physical contact. Examples include: golf, Nordic skiing, weight lifting, running and swimming.
High velocity, non-contact sports: These sports and activities are those where athletes move at high rates of speed but with no contact with other participants. While there is no contact, anytime you are moving at high rates of speed, accidents can happen. Examples include: bicycling, motocross, skateboarding, skiing and snowboarding.
Contact sports: As the title states, these sports and activities include frequent body-to-body contact or body to equipment (e.g., a ball, glove, etc.) contact. Examples include: basketball, soccer, lacrosse, baseball and softball.
Collision sports: With these sports and activities, strong, forceful, body-to-body or body-to-equipment contact is a primary goal of the sport. Examples include football, ice hockey, rugby, and boxing. Without the proper protective head and mouth gear, participants are highly likely to experience an oral-facial and/or head injury.
The good news is that you can dramatically reduce the odds of serious dental and oral-facial injury by ensuring that you wear a professionally made mouthguard in addition to a helmet, facemask, or other protective gear that is appropriate to the sport. This is especially true if you participate in the high velocity, contact and collision categories. These simple steps can help reduce worries for not only players, but also for parents, caregivers and coaches. For more information, read, "An Introduction To Sports Injuries & Dentistry." You can also download a FREE, pocket-sized guide for managing dental injuries.
By Steven R. Gluck, D.D.S.
April 20, 2012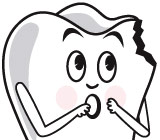 Nearly every parent and caregiver has experienced that almost instantaneous sick feeling when they see that their child has been injured, especially when it is an injury to the mouth and teeth. For some, it is just a bloody lip; however, if the accident chipped a tooth, then you may have a completely different situation on your hands. If the nerve of the tooth has not been damaged, you needn't worry too much — a composite (plastic) tooth-colored restoration that is actually bonded to the tooth is an ideal material for repairing most broken or chipped teeth. See us as soon as possible to assess the extent of injury, so that proper and appropriate action can be taken.
An additional reason why bonding with composite resin may be the ideal choice for repairing a child's chipped tooth is that it can be custom created in virtually any shade so that it perfectly matches the damaged tooth and the surrounding teeth. It is also far less expensive than a crown, an important factor to consider when repairing a primary (baby) tooth that will eventually fall out to make room for a permanent tooth. If the injury is to a permanent tooth, a composite resin still may be ideal to use as a restoration until your child or teenager has stopped growing or playing contact sports. This is because your teenager may be too young for a more permanent restoration such as a crown or porcelain veneer.
An important, proactive step you can take to be prepared for the next time your child has a dental injury is to download Dear Doctor's Field-side Pocket Guide for Dental Injuries. This handy, quick reference guide is a must have for athletes, parents, caregivers, teachers, coaches or anyone who is often in an environment where a mouth injury is likely to occur. Knowing what to do and how quickly you must respond can make the critical difference between saving and losing a tooth.
By Steven R. Gluck, D.D.S.
October 30, 2011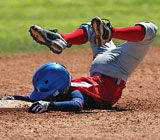 Every parent, caregiver, coach, sports fan and especially injured party dreads the moment when an injury to the mouth occurs during a sporting event. The first thought observers have after looking closely to see if it is their child or someone they know is, "I hope someone knows what to do!" Do you know what to do in case of a dental sports emergency? Test your dental injury IQ with this simple, quick quiz. The answers are listed at the bottom of this article.
Dental Injury IQ
If a tooth (including its root) is totally knocked out, what can you safely store it in while finding a dentist within 5 minutes of the injury?

Water or salt water
Milk (preferably cold)
Inside the cheek (mouth) of the injured person
All of the above

True or False: Immediately following the injury, fresh cold tap water or bottled water is the best way to remove debris from where a tooth was knocked out.
If a tooth has shifted from its original position following an injury, you should...

See a dentist within 5 minutes
See a dentist within 6 hours
See a dentist within 12 hours
Only see a dentist if the tooth is not better in a few days

True or False: You treat a knocked out baby tooth in the same manner as you do a permanent tooth.
The most important thing to do to save a tooth that has been completely knocked out of the mouth is to…

See a dentist as soon as possible
Replant the tooth within 5 minutes
Stop the bleeding before re-planting the tooth
Rinse the tooth with fresh, clean water
The Answers
1) d = all of the above, 2) true, 3) b = see a dentist within 6 hours, 4) false – baby teeth are typically not replanted, 5) b = replant the tooth within 5 minutes
Want To Learn More?
Contact us today to discuss your questions or to schedule an appointment. You can also learn more about treating dental injuries when you read the Dear Doctor article, "The Field-Side Guide To Dental Injuries." Or, you can download a FREE, pocket-sized guide for managing dental injuries.